SS-7000-RM

Powerful Streaming Forwarder Server for Diverse Devices and Viewer

DIGIEVER Streaming Server (SS-7000-RM) is a powerful streaming forwarding server that provides up to 1000 streamings for large-scale surveillance deployments and hundreds of viewers.

SS-7000-RM can connect up to 128 channels with dual-stream for different access purposes. Streaming with higher resolution is for recording while streaming with lower resolution is for live monitoring, which can save bandwidth usage and offer you a faster access experience. You can check live videos directly via Streaming Server or via software application on Windows PC, iOS and Android mobile devices. Its streaming authorization allows you to define camera access by accounts. Streaming Server is also equpped with redundant power supply as an option. If one fails, the other power supply starts running to keep Streaming Server powered up.
---
Powerful Streaming Forwarding Performance
● Supported 128-channel
● Dual-streaming per channel
● Forwarding Performance (H.264 and H.265): Full HD: 300 streamins/ HD: 500 streams/ CIF: 1000 streams
● Video Fromat: H.264, H.265, MPEG4, MJPEG, MxPEG, Axis Zipstrem (H.264)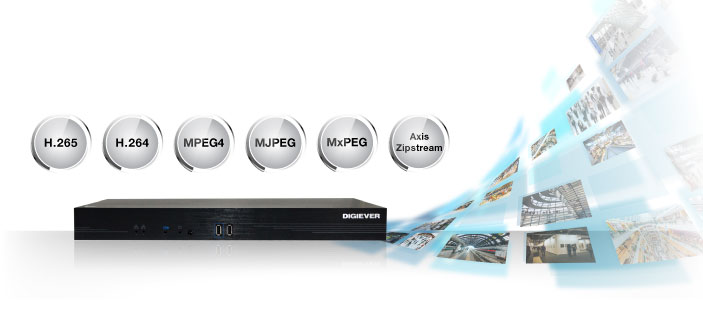 Its powerful streaming forwarding performance is ideal for remotely simultaneous access for diverse devices and accounts. One streaming server can simultaneously provide 1000 streams (CIF resolution), which can incredibly increase the scalability of remote monitoring deployment and decrease the streaming limitation of IP cameras.
---
Comprehensive Compatible Ability
● Support over all 120 brands and up to 5500 cameras
● Support ONVIF Profile S/ Generic RTSP & MJPEG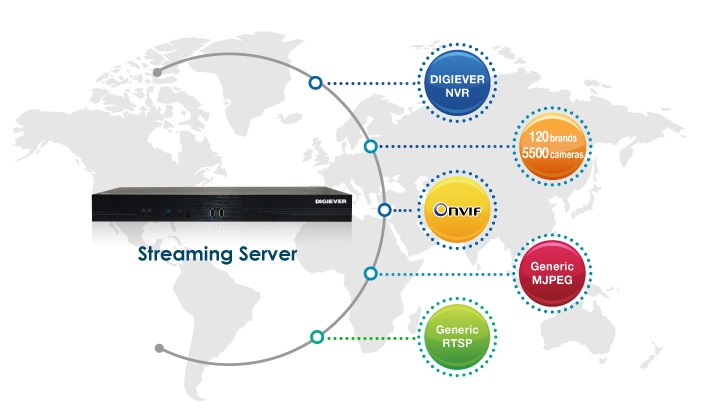 With high compatibility ability, users can add desired IP cameras to Streaming Server and deploy suitable display mode to guard secure areas.Streaming Server conforms to ONVIF (Open Network Video Interface Forum) and supports RTSP (H.264)/ MJPEG URLs to satisfy monitoring requirements of cameras.
---
User-friendly Design
● Trouble-free installation in 4 Steps
● Quickly add NVR and camera via UPnP and ONVIF search
● PC-less operation with USB type keyboard and mouse
● Support 25 languages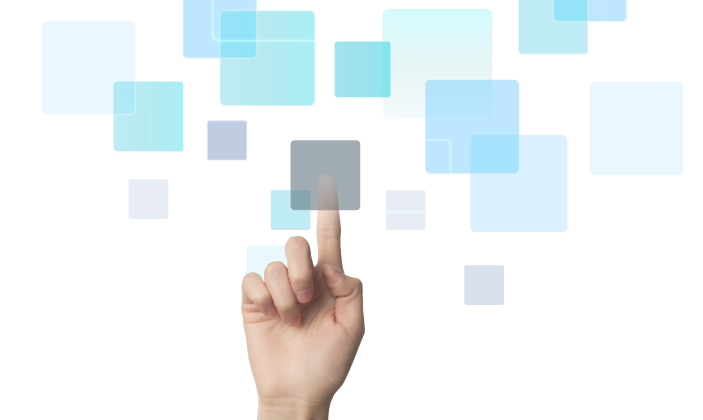 The user interface and operation design is based on that of DIGIEVER NVR, so users can quickly start operating DIGIEVER Streaming Server with zero learning curve. Four steps, less than 3 minutes, the setting of camera, system, network environment and date/time can be easily set up. Besides. Furthermore, DIGIEVER Streaming Server supports 25 language versions to break the limitation of language and nations.
---
Smart and Reliable System
● Reliable Linux-embedded system
● Complete log information
● Save/Load configuration file via USB dongle/PC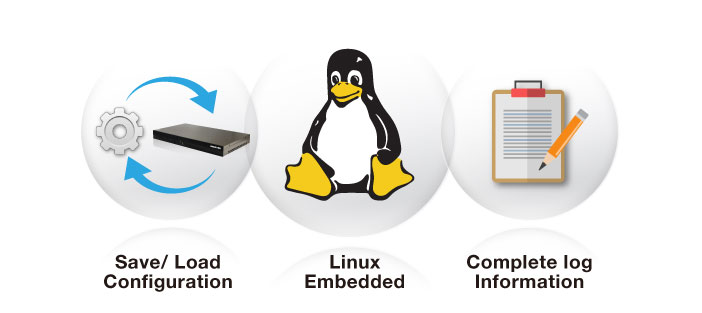 DIGIEVER Streaming Server adopts Linux-embedded operating system with high reliability and power saving features. DIGIEVER Streaming Server is your best choice to save your money on power bill. Furthermore, completer log information provides users a quick overview to understand system status so as to maintain and manage surveillance system. Finally, Streaming Server also allows installers to save configured configuration file to USB device or on your remote PC so that they can efficiently load the configuration file to other Streaming Server.
---
Flexible User Privilege Management
As for user privilege management, administer can create users and power users to assign suitable surveillance privilege to ensure the safety of your region.
Memory
1 GB Flash (DOM)
GB DDRIII memory
LAN Port
2 x Gigabit RJ-45 Ethernet port
LED Indicators
Power, LAN and backup
USB Connector
6 x USB 2.0:
Fort x 1: For video backup
Fort x 1: For USB UPS device
Back x 4: For USB UPS device
eSATA
2 x eSATA port (reserved)
Buttons
Power, USB backup
Output Connector
VGA and HDMI
Alarm Buzzer
System Warning
Operation Environment
Temperature 0~40˚C
Humidity 0~95% R.H.
Power Supply
Input: 100-240V AC, 50/ 60 Hz, Output: 250W
Fan
1 x quiet cooling fan (4cm. 12V DC)
H/ W Dimensions
44.4(H) x 428.2(W) x 251.3(D) mm
1.7(H) x 16.9(W) x 9.9(D) inch
Color Box Dimensions
494H) x 333(W) x 173(D) mm
19.4(H) x 13.1(W) x 6.8(D) inch
Carton Dimensions
513(H) x 325(W) x 208(D) mm
20.2(H) x 12.8(W) x 8.2(D) inch
Color Box Shipping Weight
Net Weight(kg/PC): 3.97
Gross Weight(kg/PC): 6.15
Gross Weight(kg/CTN): 6.15
Streaming Forwarding
Supported Channel
Up to 128
Input Stream
Up to 256
Output Stream
Full HD with 4M bitrate : 300 streams/ HD with 2M brirate : 500 streams/ CIF with 512k britrate : 1000 streams
Streaming Resource
IP Camera or DIGIEVER NVR
Streaming Receiving Device
DIGIEVER NVR, DIGIEVER CMS, Video Wall Station, DIGIMobile V2
Video Format
H.264, MPEG-4, MJPEG, MxPEG
Local Configuration
Yes
Liveview Monitoring(Windows)
Surveillance Software Application
Yes
Display Mode
1/3/4/5/8/9/10/12/16/20/25/30/36/42/49/56/64 & 5+1/12+1-channel & sequential and full screen display modes
E-Map
Yes, Multi-layer dynamic E-Map
Camera Dewarp
Yes
Multi Web Browsers Support
IE, Chrome, Firefox, Opera
Advanced Event & Action Management
Event
(1) NVR Events: Abnormal shutdown
(2) NVR Hardware Events: CPU temperature warning, CPU fan warning, system fan warning
Action
1. E-Mail notification: SMTP server service for sending E-Mail
2. Buzzer: Buzzer can be enabled up to 60 seconds
Security Management
Max. Number of Account
Up to 1024
User Privilege Management
User can be assigned for different levels of privilege
Log System
Hardware log, System log, event log, current user log and historical user log
IP Access Control
Specify IP address or network segment for the white and black list
Auto Logout
Auto logout idle time limit from configuration page
Two LAN Port Applications
Yes, including share IP, separated IP and load balance
Operating System
Linux-embedded system
Network Service
Protocol Support
HTTP, TCP/ IP, DHCP, Static IP, DNS, DDNS, UPnP and NTP,
Suggested PC Requirements for Remote Monitoring
Operating System
Microsoft® Windows® Vista/ 7 / 8 (32 and 64-bit)
CPU
For channels under 16 : Intel® Dual core CPU 3.0 GHz or above.
For channels over 16 : Intel® i5/i7 CPU 3.3 GHz or above.
Browser
Microsoft® Internet Explorer 8.0 or above, Opera 17.0 or above, Chrome 31.0.1650.57m or above
Suggested Switch Requirement
Switch
Gigabit switch is highly recommended
*Note: Please contact DIGIEVER sales to know more integrated information.
Streaming Server
Screw Bag
Ethernet Cable
CD-ROM
Rack-mount Ear
• All designs and specifications are subject to change without prior notice.
Streaming Server
Rack-mount Ear
• All designs and specifications are subject to change without prior notice.
Type
Description
File Size
Download Site
Notes
Datasheet
DIGIEVER IP Video Surveillance Solution
47.45 MB
2020/01/20
Datasheet
DIGIEVER全方位網路影像監控系統 全系列產品型錄
36.37 MB
2017/12/28
Please visit
Download Center
to get more marketing materials or other technical documents, etc.